Welcome to Kentuckiana Shotokan Karate Do, your New Home for Martial Arts!
KSKD is family friendly offering complete Martial Arts training from empty hand to the use of weapons for self-defense.  You should know that Martial Arts is not just for self-defense.  You can also gain physical fitness, improve your mental strength, and even change your outlook on life. 
Training in Martial Arts prepares you to adapt to different situations which can be very helpful in your social and professional life. Seasoned practitioners are highly regarded for their discipline and sense of calm obtained from their training.
It is never too late to learn or try something new! Age is just a number. Come on in. We will help you every step of the way.
We practice the Traditional Japanese Martial Art of Shotokan Karate-Do. 
You WILL learn to defend yourself. You must first learn what you can do and then how to do it. "There is no magic". One must be patient.
Is your kid a victim of Bullying? Is your kid the Bully? Issues with Focus or Discipline? We can help! Our programs instill a sense of Confidence, Respect, Honor, Humility and Discipline needed to develop responsible members of society.
Pronounced "ee-ii-doh". This is the Way of drawing the sword. We practice the Yamaguchi-Ha Toyama Ryu iaido system with emphasis on pursing technical excellence in a meditative manner. Remaining calm is important when practicing with the sword.
Join us for a Traditional Japanese style of Martial Art for self-defense, not sport.  Available to those 16 years and older.  We practice Traditional Jujutsu, Bo, Hanbo and Bujutsu (sword). You may discover the "missing pieces" of kata as this style complements karate training.
Here is where a list of the frequently asked questions answered.  If you didn't find what you are looking for, reach out to us through our Contact Section at the bottom of each page. Of course, give us a call anytime.
From the thoughts of Sensei Almonte Covington and guest contributors.  Helpful information, suggestions and guide to just being.
Keep up-to-date with KSKD's activities.  This page will give you a quick look into upcoming events.
For Daytime classes, please contact Sensei Almonte before attending as a new member: 
(502) 977 – KICK (5425)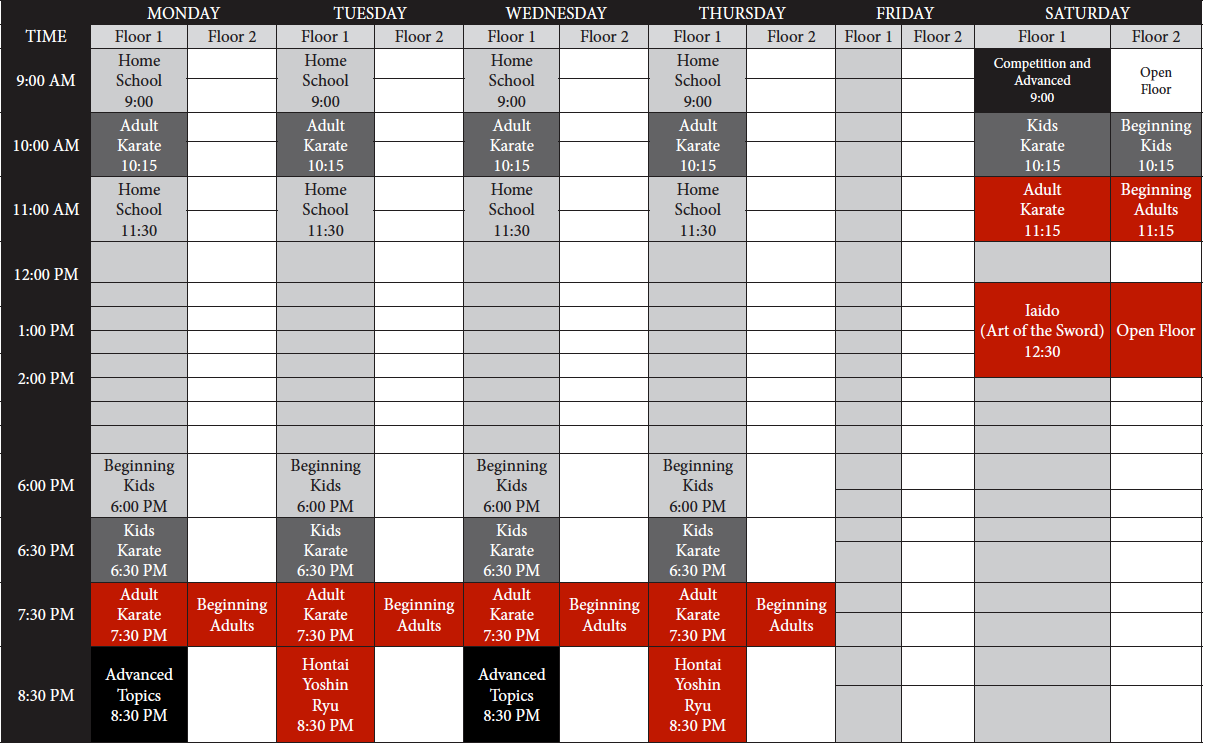 We are Blessed to have two Dojo floors which allows us to run separate Adult and Kid Classes at the same time.  This also allows us to separate the various skill levels and conduct Semi-Private Introductory classes.
Weekly Iaido
The Art of Drawing the Sword
Essentials Tier
Up to Two Classes per Week
Premium Tier
Up to Three Classes each week

Weapons Training Included

Monthly One on One Session

Competitor Training Covered
Unlimited Tier
Unlimited Classes each week

Weapons Training Included

Weekly Scheduled One on One Sessions

Competitor Training Covered